| | | |
| --- | --- | --- |
| | Who is Viola? Our mascot, a fictional nice person from a computer game :-D. | |

Back to the frontpage:

More info and latest NEWs:


We normaly broadcast as announced in the weekends starting at 12 UTC
and sends normally a couple of hours (to about 14 UTC).
If we do not send a weekend due to holiday, illness or death, it will be announced
in our FaceBook group. The same applies to additional unscheduled broadcasts.

Therefore :-)..


For more details and

'last minute info'

, sign up to our FaceBook Group:




You can also find us on 'Google Maps'.
See North Zealand and search 'radio station' or search directly on 'radio oz-viola'.


If you want an E-QSL cards from us.
Then you should in the report you send, giving us the following information:
PS: You are also welcome to send us a 'sound file' report as extra info.


' jansteendk (a) hotmail.com '

Our signal out there.


Local groundwave, most of Europe, Iceland and sometimes in US.




Hvis du bor i vores lokale område, så kan du se her om du kan høre os via 'jordbølgen'.
Alle målinger er foretaget med en håndholdt transistorradio med stavantenne.


The 'Station Master' Jan Sorensen (OZ8AO).


In our small studio.
Inside stations technology:

Our station consists of '3 elements', an exciter (2.5W/10W PEP), a linear driver (35W/150W PEP) and a linear PA stage (150W/600W PEP).



More from our 'technical room':
The PA-stage 150W AM / 600W PEP...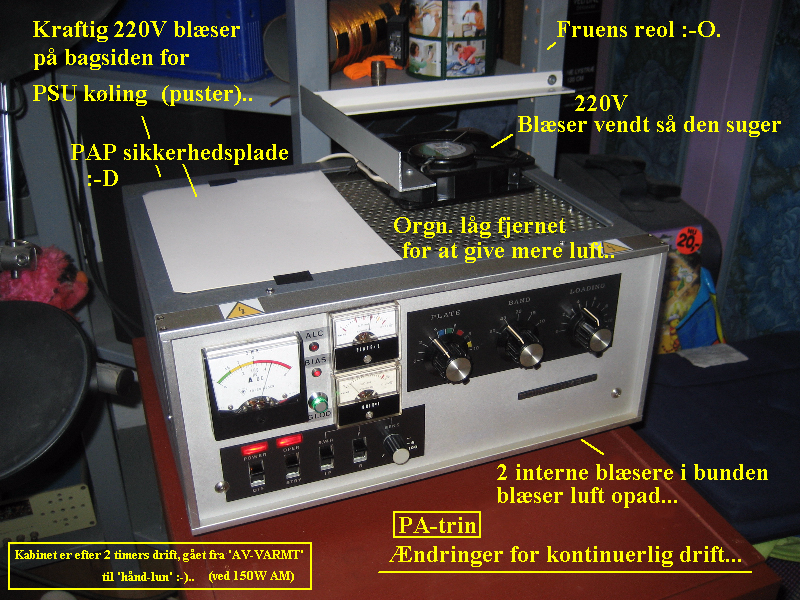 The PA is rebuild with 2 extra 'fans' for continuous operation. One for the tubes (sucking) and one for the PSU (blowing).
+ there are 2 internal fans in the bottom (blowing).

Now we are using our new DDS exciter, also

homemade

..

Data:
Output 2.5W AM (10W PEP), al spurious better than -60dB. Adjustable frequency range without adjustments, 2 MHz. to 7 MHz. (+/- 1dB). Adjustable +/- 1 Hz. Stability +/- 5 Hz. 'after warmup'.
AF response 15 Hz. to 50 kHz. Excellent sound, under 1% distortion.


Our first homemade PLL Exciter: 2.5W 'balanced AM' (10W PEP). Spurious: -45dB.
Frequency stability after warm up: +/- 10Hz. on 5825 kHz. AF Distortion: Better than 1%.



| | | |
| --- | --- | --- |
| Our sound... | The AM signal is close to perfect symmetry.. | |
| | | |
| --- | --- | --- |
| Can you hear the bass ? | Distortion measurement via spectrum. | White Noise test.. |
Antennas...

| | | |
| --- | --- | --- |
| | It is not the best antenna in the world, but due to lack of space and neighbors it became the solution. | |
Get more information on our FaceBook group...


Sometimes we make a night broadcast. It will be announced in our FaceBook group.


For the technically interested listeners:
Build your own 'Viola Receiver'. The 'RF stage' you have to design yourself, as it depends on whether you want a 50 Ohm input, or connection for a 'high impedance telescope antenna' or both types
(most for fun)..


DR Kalundborg is approved as 'frequency standard'..
Transmitting only at 'scheduled times'.
| | | |
| --- | --- | --- |
| | Erik from previous DR shortwave department, Stig from Radio 208, WMR and Jan from Radio OZ-Viola. | |